We have always been shameless about stealing great ideas.
We cannot solve our problems with the same thinking we used when we created them.
We're making quality bigger here… ECHO is founded on a values system, then connected to the technology, and it wouldn't be anywhere near what it is today if it didn't start there. The same is going to be true about the quality journey globally.
Quality is never an accident. It is always the result of intelligent effort.
You need to be able to support learning, and that is the magic of ECHO. ECHO, in its core, is about the importance and really the beauty of learning as a way to get better.
Integrating quality improvement into the ECHO model facilitates the translation of knowledge into improved outcomes of care in a formal and systematic way.
Variation is knowledge and that knowledge is spreadable. Celebrate the variability, don't fight it. Standardize what has to be but celebrate the variation, and then learn from the variation and develop this learning community, this global community of people.
❮
❯
Reimagining the Way QI Knowledge is Delivered | Demonopolizing QI Expertise | Expanding QI Science Application through Innovative Use of the ECHO Model
Quality Improvement (QI) has been and can be integrated into the ECHO model in a variety of different ways. Whether with the goal of teaching quality improvement science, improving and measuring implementation of best practices, or reducing disparities in care, this use of the model is innovative and relatively new.
We are developing a small team to support this application of the ECHO model, and are here to help in any way we can as you embark on this journey. At the ECHO Institute we are testing use of the model for QI, as we know partners are also doing, and are actively working to gather and share information to better understand what works and recommendations for future implementers.
Focal Areas for Developing a QI ECHO:
What defines a QI ECHO?
There is a spectrum of implementation that we are actively working to better define:

Emphasis on Practicing QI Content

To teach QI science (Model for Improvement, Lean, etc.)
Individual participants have their own QI projects with non-standardized/uncoordinated topics
Focus for participants on applying the learned QI content to learner-specific environments

Emphasis on reaching common improvement goals using QI methodologies
Emphasis on improving learner-specific goals without a common QI goal

To loosely engage in QI work, without specifically teaching QI science/methodologies/tools

Emphasis on improving internal ECHO processes using QI methodologies

To improve upon the operational processes and procedures, goals, community engagement, etc.
Join us!
QI ECHO Collaborative
This community is open to members of the ECHO Community (signed partners or not) interested in or already using the ECHO model for QI. We aim to create a safe space to share barriers and successes, as well as opportunities for collaboration, via monthly Zoom calls. Participants have an opportunity to present their ECHO challenges and gather feedback for solutions from fellow partners. Guest speakers and current replicators are invited to speak on their work or other varying topics related to QI and ECHO.
Check our resources in Box here (only accessible by signed ECHO partners).
If you would like to register for our QI ECHO Collaborative calls, click here.
Contact Us
Contact QIECHO@salud.unm.edu to reach our QI Team.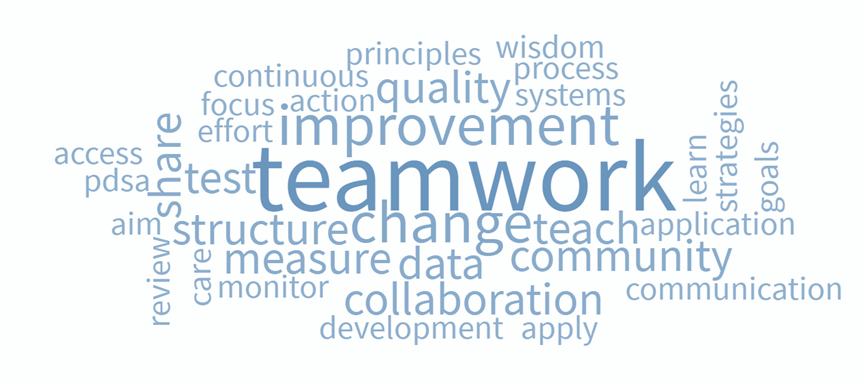 QI ECHO Hubs and Programs:
QI ECHO Partners' Highlights and Activities:
QI ECHO Highlights
"Hear Me and Heal the Health Care System" by Adam Thompson, Regional Partner Director, Center for Quality Improvement and Innovation
Crossing the Global Quality Chasm: An Interview with Don Berwick by Susan Dentzer
QI and ECHO Resources